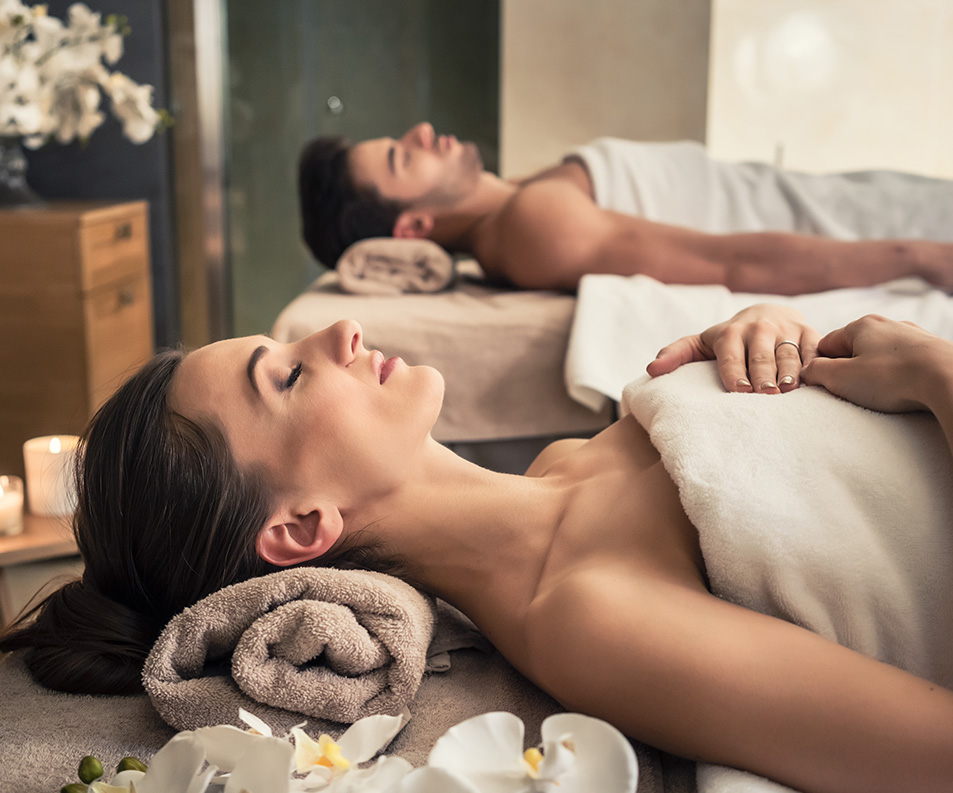 "Wellness is a multidimensional state of being describing the existence of positive health in an individual as exemplified by quality of life and a sense of well-being."
Charles Corbin, Arizona State University
More than ever before, we've been hearing the word wellness in the news, in conversation, on billboards, and at work. What can a wellness program do for you?
The Physical Therapy First Wellness Program offers you, our patient and community, the opportunity to achieve a balanced lifestyle. Our continued focus on the physical component of wellness provides patients positive mental effects such as stress relief, relaxation, improved attitude, and increased productivity.
Several Dimensions of our Wellness Program include:
Massage
Metabolic Testing
Personal Training
Massage
Used for centuries, massage is one of the best-understood alternative therapies available. New research shows that even a single deep-tissue massage can help stop the production of stress hormones. Massage has also been shown to relieve cancer pain.
To learn more about the benefits of massage, click here.
Metabolic Testing
VO2 Max Testing
Improve your time, Maximize Workout.
VO2 Max is the measure of an individual's maximum capacity to transport and utilize oxygen during exercise. Our VO2 Max test measures key data including peak VO2, anaerobic threshold, and the precise amount of calories burned at all exercise heart rate levels. This data can be used as the foundation for customized exercise programs that truly meet the needs of the individual.
An oxygen-measuring mask is attached to the individual while they are exercising on a treadmill or on a stationary cycle. The individual is then submitted through increasingly more strenuous exercise while measuring their rate of oxygen use.
VO2 max capacity is more than simply knowing how much oxygen is used. It is a basic benchmark of athletic capacity. Empower yourself with the ability to meet your fitness goals efficiently and safely with no unnecessary fatigue or wasted time.
Resting Metabolic Rate
LEARN HOW TO BE EFFECTIVE!
Measuring Resting Metabolic Rate (RMR) helps when constructing personalized weight loss programs and will offer you a more effective way to manage caloric intake.
Everyone's metabolism and caloric needs are different. Your body's metabolism is affected by factors such as genetics, age, gender, height, and activity. After our test, you will learn:
How many calories you can consume without gaining weight
What caloric deficit is required to lose weight
Your personal metabolic requirements
How many calories from exercise should be included in a balanced weight loss program
How many calories are burned from fat compared to carbohydrates
Personal Training
No Limit Fitness/Sports Performance is a community driven training facility. We offer group training, personal training, sports performance training, and a performance program for adults with autism.
What really makes No Limit Fitness different is our sense of community and our passion for fitness and sports performance. We have a "start together, finish together" mentality. It doesn't matter if you've never picked up a weight in your life, if you are training with the groups, or training individually, you are in the family. Our passion for fitness is noticeable from the moment you walk in the… door, if it's not then we have not done our job. The environment is positive, encouraging, and fun. We want you to want to be here. It is our responsibility to help you see that fitness is a way of life. Your strength, conditioning, flexibility, and overall fitness level is a life-long process, not just a short-term goal and your nutrition is an ongoing science experiment, not just a New Year's resolution. When you have a positive and healthy attitude you can achieve a positive and healthy lifestyle.
Smarter Team Training has been developed to focus on athlete and team development, performance, and education.
By incorporating the SMARTER Team Training programs into your year round athletic development program you will decrease your injury potential, increase individual athleticism, and maximize your team training time.
Coaching athletes or teams is a skill that requires experience, practice, knowledge of proper training principles, and enthusiasm. We approach each workout with the same passion and energy as our first. What you can accomplish is not defined by what you can do on your own, but what we can achieve as a SMARTER team.
The seven phases of the STT program are Speed, Movement, Agility, Reaction, Technology, Education, and Resistance.
Incorporate SMARTER drills, exercises, educational programs, and team training techniques into your sessions to provide a unique opportunity to increase team and client camaraderie and cohesion.
If you are looking for a personal training experience with the emphasis on personal and you have health and fitness goals in mind, then Sasha is the professional that can translate expectations into results.
Sasha is certified in Personal Training by the American Council on Exercise. She holds a Bachelor of Science Degree from Towson University in Exercise Science. Sasha is also a former Division I college athlete who understands that hard work and dedication can and will yield results. Those results are both tangible, such as exceeding your weight lifting expectations through strength training, and intangible, such as improvements in self worth, confidence and quality of life.
Sasha has been a personal trainer for over thirteen years. EVERY client receives an individual workout program customized to their lifestyle and interests. Lifestyles changes that improve a client's health and well-being are encouraged, including eating habits. Check out some of her many clients' testimonials.
To learn more about Sasha, click here.
Roland Park
200 W Cold Spring Ln #300
Baltimore, MD 21210
(410) 662-7977
Clarksville
5005 Signal Bell Ln #202
Clarksville, MD 21029
(410) 531-2150
Rosedale/White Marsh
9110 Philadelphia Rd #100
Baltimore, MD 21237
(410) 574-4966
Timonium
15 W Aylesbury Rd #600
Timonium, MD 21093
(855) 783-4778
By clicking here, I agree to be contacted at the number or email provided