Joseph Holmes, PT, DPT, FNCP, CDN
Every few years a group of expert physical therapists gather together to review the latest evidence-based research on a given area. The expert group reviews the quality of published research and discusses the best and worst strategies for clinical examination and treatment approaches. These summaries of evidence are referred to as the 'Clinical Practice Guidelines' and they are considered a guidebook for clinical physical therapists to follow in practice. In 2017, experts met with the purpose of updating the clinical practice guidelines for people with hip pain, stiffness, and potential hip osteoarthritis (OA) and improving treatment strategies when treating patients with hip pain and mobility deficits in relation to hip OA. Hip OA is extremely common with men showing higher rates of OA than women. Risk factors for developing hip OA include age, history of hip developmental disorders, previous hip injuries, reduced hip motion (especially internal rotation), presence of hip osteophytes, lower socioeconomic status, higher bone mass, and higher body mass index (BMI).
The evidence is compiled and rated by the panel of experts on a scale of A to F as recommendations to patients and clinicians with 'A' indicating strong evidence and 'F' indicating weak evidence. After reviewing all of the most cutting-edge, highest quality research on the topic of hip OA, the group released the following recommendations for treating hip pain, stiffness, and OA. I will highlight a few of the key takeaways and how this will affect you, the patient, when seeing your physical therapist for a full 1-on-1, one-hour session at Physical Therapy First.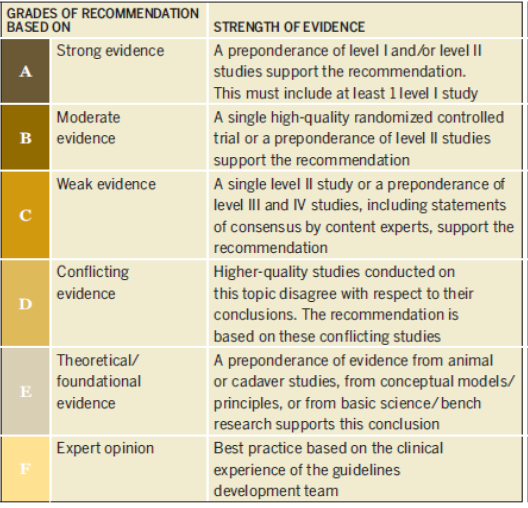 Assessing Baseline Pain and Function:
The evidence demonstrates level 'A' support in recommending the completion of the following three measures: (1) the visual analog pain scale (VAS) to provide a numeric rating for your pain; (2) the Lower Extremity Functional Scale (LEFS) to evaluate your difficulty in completing daily and recreational activities; OR (3) the Hip Disability and Osteoarthritis Outcome Score (HOOS).
The physical therapist will also utilize standardized validated functional tests to establish your baseline functional level. This provides a benchmark for comparison with future reassessments to determine the level of progress that has been made during your bout of physical therapy. These functional tests include:
6-minute walk test: Walk consecutively for 6 minutes and measure the distance traveled.
30-second chair stand: Stand up and down as many times as you can in 30 seconds.
Timed Up and Go Test: Stand up from a chair, and walk out 10 feet and back 10 feet.
Single leg stance: Stand on one leg for up to 30 seconds without losing your balance.
The step test: Step up and down off from an 8-inch step to assess balance and strength.
All of these functional tests are combined to evaluate your overall functional status and identify any potential limitations. They are all recommended in the clinical practice guidelines with support of level 'A' evidence.
Physical Exam:
The physical therapist will complete a hands-on assessment of your mobility, flexibility, and strength of your affected hip in order to identify specific restrictions or impairments. This assessment will include assessing your lumbar spine, hip, and knee to rule out the possibility of the back or knee referring pain into your hip. In addition, the physical therapist will look deeper into your hip restrictions to assess your overall hip flexibility in all directions. The hip primarily moves in six directions, as shown in the figure below:


Note: Image provided by www.sequencewiz.org
After assessing your hip mobility and flexibility, the physical therapist will then assess both your left and right hip strength with hands on strength testing of the hip abductors, adductors, internal rotators, external rotators, flexors, and extensors.  After completing the appropriate physical evaluations, and reviewing your history of what causes your discomfort, reported pain levels, and any functional impairments, the PT will then move to implement interventions that will specifically help you to heal the fastest.
Diagnosis:
The diagnosis of probable hip OA comes from a compilation of the key findings from the physical therapist's evaluation. Factors that would indicate hip OA as opposed to non-hip OA are as follows:
Moderate anterior or lateral hip pain during weight-bearing activities
Morning stiffness less than 1 hour in duration after wakening
Hip Internal Rotation less than 24 degrees
Internal Rotation and Hip Flexion 15 degrees less than the nonpainful side
Increased hip pain associated with passive hip internal rotation
Absence of history, activity limitations, and/or impairments inconsistent with hip OA
Having more factors that are present on the above list suggests that it is more likely that a person has hip OA. Typically, after showing a few of the above factors, your physical therapist will be in contact with your primary care physician or orthopedist (when applicable) to discuss medical imaging to confirm this diagnosis.
Intervention:
The interventions prescribed will be those which are best matched by level of evidence available. These include:
Manual Therapy [Level A]: Soft tissue mobilization, hip stretching, and joint mobilizations
Patient Education [Level B]: Support for exercise adherence, and understanding of the condition are very beneficial for patients.
Exercise [Level A]: Specific stretching and strengthening specific to the patient's limitations.
Modalities [Level B]: Ultrasound and heat can be beneficial in the short term for hip pain from OA.
Bracing [Level F]: Not recommended.
Weight Loss [Level C]: In collaboration with the patient's entire medical team, weight loss for people who are overweight or obese could be beneficial in improving pain and function.
Follow Up Treatment and care both in Physical Therapy and at Home:
After reviewing all of the findings with your physical therapist, we will then determine your best individualized care plan. This includes how often to attend physical therapy sessions, how often to complete self-care activities and exercises at home, and what activities to do. Level 'A' evidence supports doing a combination of your home exercises and physical therapy 1-5 times per week, over 6-12 weeks in order to see beneficial results. The exercises prescribed to you for home are individualized for each person, but will most likely include activities such as hip stretching, hip strengthening, balance exercises, education on self-care including potentially using an assistive device, potential weight loss, and goal setting towards the goals that are identified by YOU, the patient.
Physical Therapy First provides 1-on-1 sessions with a licensed doctor of physical therapy, most of which are board certified in orthopedics, for full 60-minute sessions. We accept most major health insurances and have flexible scheduling to best accommodate your needs.
All of the above refers to the following citation: Michael T. Cibulka, Nancy J. Bloom, Keelan Enseki, Cameron McDonald, Judith Woehrle, Christine M. MacDonald. J Orthop Sports Phys Ther 2017;47(6):A1-A37. doi:10.2519/jospt.2017.0301